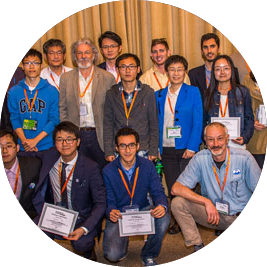 Welcome to the OCEANS
Student Poster Competition site!
This site was designed to answer questions you may have about the program, as it differs significantly from conference poster sessions conducted within other conferences.
The OCEANS Student Poster Competition offers an opportunity for students to travel to an OCEANS conference to present their research, expenses paid. There are two OCEANS conferences held each year and each conference hosts a Student Poster Competition. During each competition 20 - 22 students (depending on available funding) are selected for the prestigious program. Students from colleges and universities around the world are eligible to compete.
Please take some time to read the information provided on the site, however please also feel free to ask any questions you may have about the program. We hope you will considered submitting an abstract to the Student Poster Competition as this is a wonderful opportunity to share your research, present during a professional conference, network with industry professional, meet like-minded students from all over the world and travel!