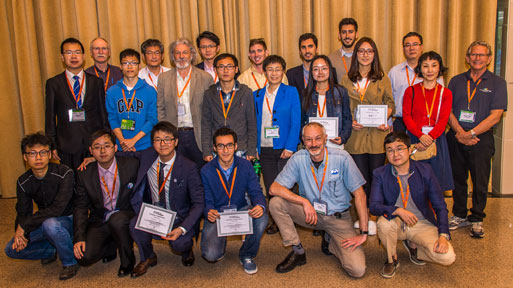 OCEANS'16 Shanghai SPC participants and judges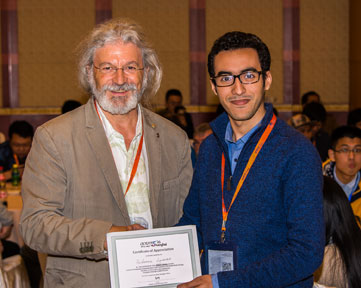 OCEANS'16 Shanghai SPC First Place winner and OES President, Rene Garello
FAQs
When will I hear if I am accepted to the Student Poster Competition?
Abstracts for the Student Poster Competition undergo two reviews. All efforts are made to send notifications about selection to the SPC at the same time as Technical Program Abstract notification. However with the second review process, the SPC notification can sometimes be delayed by a week or so. Please consult the conference web site for the Notification dates.
What if I am not selected?
If you are not selected for the Student Poster Competition, however your abstract is selected for the Technical Program, we encourage you to attend the conference to present your research, however registration, travel and accommodation must be covered by your our resources. The OCEANS conferences do not offer general travel grants, etc.
What if I have applied in the past, may I apply again?
Yes, you may apply again and that is encouraged! Keep in mind that competition is tough for the 20 - 22 places available for each conference. If you were not selected, please make significant effort to improve your future abstracts by working with a professor or colleague.
The only people prohibited from applying again are those who win first prize in the competition.
I have been selected for the Student Poster Competition, how do I?:
Register for the conference
Arrange for travel to the conference
Arrange for a travel visa (if required)
Arrange for accommodations during the conference
Conference Registration
A full conference registration is included as part of your Student Poster Competition (SPC) award package. This registration includes access to all technical sessions, social events and the Exhibition. Please login to your author dashboard to register as soon as possible. At the end of the registration procedure the system will automatically provide you with complimentary registration. Note that you will need to pay for any tutorials or guest tickets that you select.
Travel
OCEANS will support all SPC participants financially for the cost of travel to the conference location. You will have to book your own flights and bring the receipts with you to the conference for reimbursement. The cost of your flight will be reimbursed as a check issued to you in U.S. Dollars. The conference will only reimburse the cost of an economy fare ticket on an American flagged carrier and a fare most cost effective for your travel needs.
Compliance is signified by the United States Flag Air Carrier's code which must be noted as part of the flight number on the airline ticket or passenger receipt. Each airline has a two letter alpha code. For example, United Airlines has a code of "UA". On an airline ticket or passenger receipt, this two digit code is designated just to the left of the flight number (e.g. UA 10). From the list of U.S. Flag Air Carriers below, you will be able to compare airline codes on the ticket with those on the list and ascertain whether or not the flight is on a U.S. Flag Air Carrier.
Airtran Airways (FL)
Alaska Airlines (AS)
American Airlines (AA)
Delta Airlines (DL)
Frontier Airlines (F9)
Hawaiian Airlines (HA)
Southwest Airlines (WN)
Spirit Airlines (NK)
United Airlines (UA)
We encourage you to book your flight as soon as possible in order to access the lowest possible airfare. Please note you will have to pay for your airfare and any other ground transportation costs in advance and we will reimburse you at the Conference.

You must provide receipts and paper boarding passes in order to receive reimbursement .
The Student Poster Chair will be in touch with you directly with specific travel information.
Travel Documentation
Please immediately begin to apply for any travel related visas or documentation. Application for these documents often takes longer than you think. There have been students not able to travel to the conference due to lack of or late paperwork. Obtaining required documents is your responsibility, not the responsibility of the conference organizers.
Accommodations
The OCEANS Conference team will set aside a block of rooms at a conference hotel. We ask that participants share their accommodations, 2 per room.
Hotel room costs will be covered directly by the conference - you will not need to pay in advance and be reimbursed. If you do not participate in the provided SPC housing, you will be responsible for the costs of your alternative hotel room choice - no exceptions.
The conference will only cover the costs of the room - no charges to the room like room service, movies, etc. If you make the choice to order anything and charge it to the room, you will be responsible for paying those charges - not the conference.
The Student Poster Chair will be in touch with you directly with specific accommodations information.