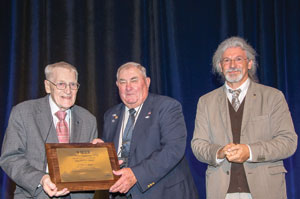 Norm Miller receiving the Emeritus Award at the OCEANS'14 St. Johns conference from Jerry C. Carroll and René Garello.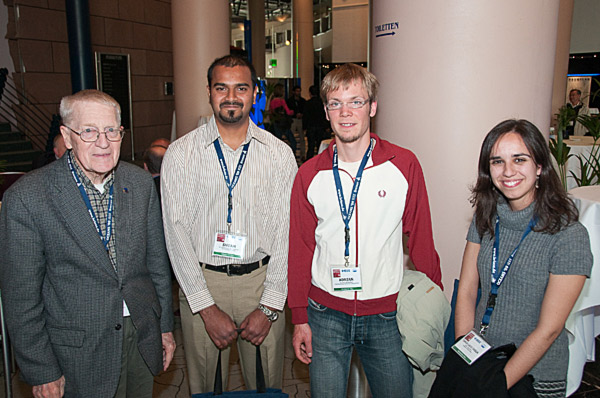 Norm Miller with students S. Madhusudhana, A. Bodenmann, T. Insua
In Remembrance
Colonel Norman Miller
The OCEANS Student Poster Competition would not exist without the leadership and generosity of Col. Norman Miller. He saw the need and opportunity to fund young researchers to attend OCEANS conference to not only compete for a prize, but also to attend a gathering of marine technology professionals, the chance to attend technical sessions and the opportunity to discuss their research with future colleagues and potential employers.
The legacy of Col. Miller will live on not only in the spirit of the completion, but also in name. In 2014, the first place award was officially named the Norman Miller prize and will continue to be awarded to the Student Poster Competition winner twice a year.
Looking Ahead
Taking the baton passed by Col. Miller, we look forward to continuing the competition as part of the OCEANS conferences, both in North America and Europe/Asia. This website is dedicated to the competition with information and examples to assist future competitors in an effort to improve the quality of abstracts, papers and posters submitted to the competitions.